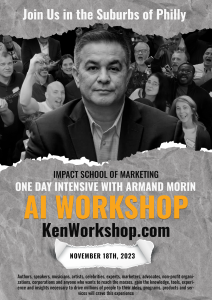 How to Profit from Artificial Intelligence
A One-Day Intensive Workshop – With Armand Morin
Saturday, November 18th, 2023. The Impact School of Marketing, 108 Corporate Drive East, Langhorne, PA 19047
The regular Price for this workshop is $497, Save $200 today with our Early-Bird Special of only $297.
Discover the Path to Profiting from Artificial Intelligence!
Join us for an exclusive event featuring industry experts Armand Morin and Ken McArthur as they unveil the secrets of harnessing the immense power of artificial intelligence (AI) to boost your profits. This is an extraordinary opportunity to learn from the best in the field and gain the competitive edge your business needs to thrive in today's technologically advanced world.
Why Attend?
Unleash the Potential of AI: In this rapidly evolving digital landscape, AI is revolutionizing the way businesses operate. Don't miss out on the chance to uncover the untapped potential of AI and transform your business into a profit-generating machine.
Learn from the Experts: Armand Moran and Ken McArthur are renowned thought leaders and have a proven track record of driving exceptional results for businesses across various industries. By attending this event, you'll gain direct access to their insights, strategies, and actionable tips to unlock the full potential of AI.
Stay Ahead of the Competition: As AI continues to permeate almost every aspect of our lives, it's crucial to stay ahead of the competition. Equip yourself with the knowledge and expertise required to leverage AI effectively, ensuring your business emerges as the frontrunner in your industry.
Network with Like-Minded Professionals: Connect with fellow business owners, entrepreneurs, and professionals who are just as hungry for success as you are. Engage in meaningful conversations, exchange ideas, and establish valuable connections that could potentially drive your business to new heights.
What to Expect?
Armand Morin will lead you through an insightful journey, covering various topics such as AI applications, implementation strategies, and overcoming common challenges. You'll walk away with a deep understanding of how to profit from AI and practical strategies to implement in your own business.
Engage in dynamic discussions with Armand and the other attendees. This interactive workshop will allow you to ask burning questions, receive personalized advice, and gain a comprehensive perspective on the future of AI.
Exclusive Workshop: Delve deeper into the world of AI with a hands-on workshop, where you'll learn how to identify AI opportunities, create AI-driven solutions, and develop a sustainable AI-driven business model. Leave with actionable strategies to implement immediately.
Networking Opportunities: Connect with Ken, Armand, and other attendees during networking breaks and an exclusive networking session. Forge new relationships, collaborate on innovative projects, and grow your network within the AI industry.
AI Tools Save You Time, Energy, and Money
Google Ads
Facebook Ads
LinkedIn Ads
Twitter Ads
Taboola / Outbrain Ads
Google Ad Headlines
Grammar Correction
Headline Writer
Job Resumes
Full Marketing Plans
Full Sales Letters
About Us Pages
Webinar Copy
PowerPoint Presentations
Email Copy
30 Social Media Plans
Social Media Posts
Fund Raising Letters
eBook Outlines
eBook Writer
Blog Titles
Blog Intros
Blog Outlines
Blog Articles
SEO Articles
Business Plans
7 Day Diet Menus
YC Pitch Deck
Call To Actions
Brainstorming
YouTube Ideas
YouTube Scripts
YouTube Video Tags
YouTube Titles
YouTube Descriptions
Event Page Copy
Fictional Story Creator
Kickstarter Campaigns
Name Generator
Refund Letters
Armand Morin Internationally Sought-After Speaker And Trainer
Armand Morin has spoken in front of and personally trained over half a million people at live business training and seminars. His straight-to-the-point teaching style has the unique ability to transform any business in 90 minutes or less and has made him a requested speaker not only in the USA but worldwide.
Armand has taught people from all walks of life in 101 different countries. You'll find him teaching his amazingly unique and proprietary Internet business-building principles and strategies and his unconventional, no-nonsense life design and management skills. He has a vast constituency in Australia, the United Kingdom, New Zealand, and Singapore.
Armand is known for revealing his latest epiphanies, wildly successful, no-BS strategies, and proven marketing models that are profitable, ethical, and ignored by 99% of the marketing world.
If you want the best in the business and someone who only teaches techniques and strategies that are proven to be effective, then you must be at this workshop.
Don't miss your chance to join us for this groundbreaking event! Reserve your spot today and secure your future in the era of AI profits. Let's harness the power of AI together and revolutionize your business success!
The regular Price for this workshop is $497, Save $200 today with our Early-Bird Special of only $297.
Here are just a few of the ways you can use AI in your business …

Benefits of AI for Small Businesses:
Cost-Efficiency: AI can automate time-consuming tasks, helping small businesses reduce operational costs and allocate resources more effectively.
Data-Driven Insights: Small businesses can harness AI to analyze data and gain valuable insights, aiding in informed decision-making without the need for extensive data analysis expertise.
Personalization: AI enables small businesses to provide personalized experiences to customers, enhancing customer satisfaction and loyalty.
Improved Productivity: By automating repetitive tasks, AI can free up employees to focus on more strategic and creative aspects of their work, boosting overall productivity.
Competitive Edge: Small businesses can gain a competitive advantage by adopting AI, allowing them to innovate, adapt quickly, and compete with larger competitors.
Customer Support: AI-powered chatbots and virtual assistants can provide cost-effective 24/7 customer support, improving the customer experience.
Market Insights: AI can help small businesses analyze market trends, customer preferences, and competitor strategies, aiding in marketing and growth strategies.

Ways Small Businesses Can Use AI:
Customer Engagement: Implement AI chatbots for handling customer inquiries, appointment scheduling, and providing basic information.
Email Marketing: Use AI to personalize email marketing campaigns based on customer behavior and preferences.
Inventory Management: Employ AI to optimize inventory levels, reducing overstocking and understocking issues.
Financial Management: Use AI-powered tools for expense tracking, invoicing, and financial analysis.
Social Media Marketing: Utilize AI to schedule posts, analyze engagement data, and target the right audience on social media platforms.
Website Optimization: Implement AI-driven analytics to improve website performance, user experience, and conversion rates.

E-commerce Recommendations: Utilize AI algorithms to suggest products to customers based on their browsing and purchase history.

Bookkeeping: Automate bookkeeping tasks, such as expense categorization and reconciliation, to save time and reduce errors.

Appointment Scheduling: Implement AI scheduling assistants to streamline booking appointments and managing appointments.

HR and Recruitment: Use AI for resume screening and initial candidate assessments, making the hiring process more efficient.

Customer Feedback Analysis: Apply AI-powered sentiment analysis to customer reviews and feedback to gain insights into customer satisfaction.

Content Creation: Use AI tools for generating blog posts, social media content, and product descriptions.
Local SEO: Optimize local search engine rankings using AI tools to enhance online visibility.

Cybersecurity: Protect your small business from cyber threats with AI-driven security solutions.
Energy Efficiency: Implement AI for energy monitoring and optimization to reduce utility costs.

Small businesses can choose AI applications that align with their specific needs, budget constraints, and growth goals. Adopting AI in a strategic and focused manner can help small businesses thrive in today's competitive landscape.
Note: Limited seats are available, so act now to secure your spot at this transformative event.
The regular Price for this workshop is $497, Save $200 today with our Early-Bird Special of only $297.